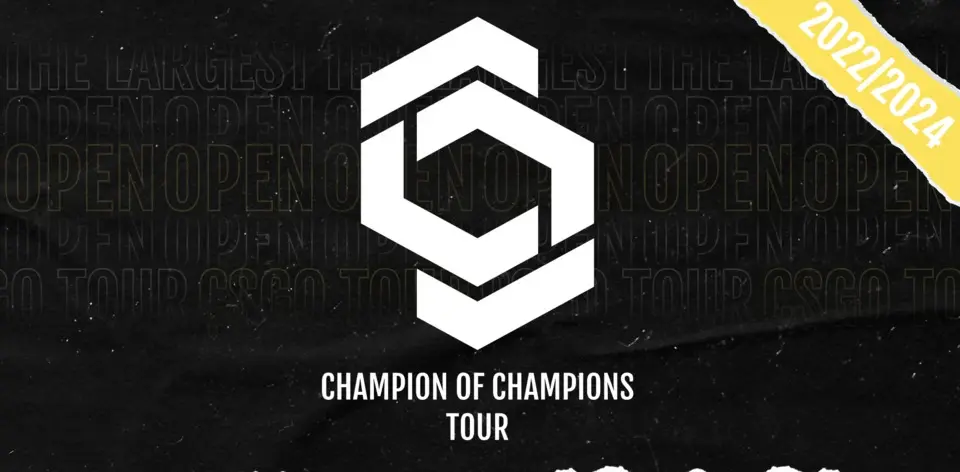 CCT almost erased the gap between tier-1 and tier-2 CS:GO: How did it happen?
The latest CS:GO major, BLAST.tv Major Paris 2023, has long been concluded. If we look at the teams from the championship playoffs, we can notice that a significant portion of them are from the online series called CCT. So why have CCT tournaments become such a stepping stone for these teams?
The regular participants in CCT championships, namely Monte, GamerLegion, Apeks, and Into The Breach, are the teams that managed to go from CCT online qualifiers to the major playoffs despite the gloomy predictions from analysts.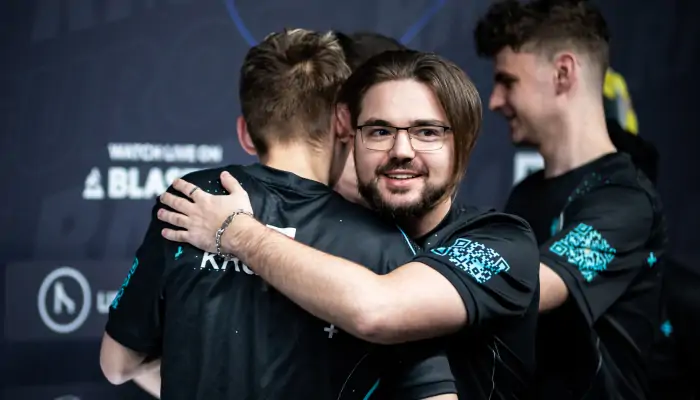 To begin with, the Champion of Champions Tour (CCT) conducts simultaneous tournaments in multiple regions, with four located in Europe and two in the American continent. During the organization's existence, they have hosted 27 online tournaments and one LAN event in Malta.
This number of championships allows numerous young teams to test their skills in official online matches. Top teams that reside in the top 20 of the world's best teams often skip tournaments of this format in favor of participating in more renowned LAN tournaments. At the same time, online teams rarely make it to LAN events due to the challenging journey from open qualifiers to the main stage, where a single mistake can cost them all the effort they've put in.
Teams that exclusively play online tournaments or participate in local LAN championships have much more practice and opportunities to test their abilities in official matches compared to the world's top teams.
How significant is the difference in the number of official matches?
Let's take two Ukrainian organizations as an example: Monte and NAVI. Monte, playing from home, managed to play over 180 maps in official matches throughout the entire year of 2023, while NAVI played a little over 70 maps.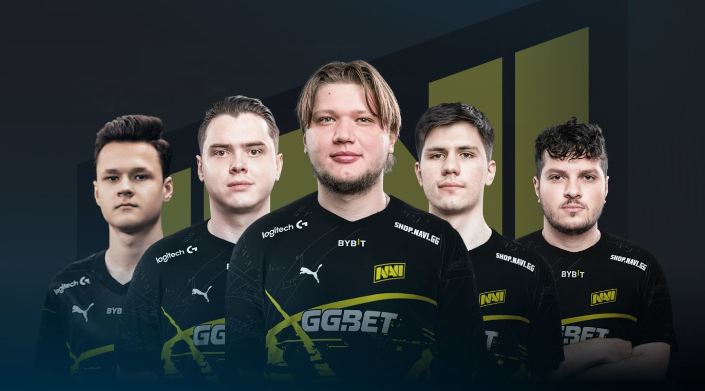 However, it's worth noting that major organizations like NAVI spend a lot of time on flights and numerous training sessions against other top teams in order to participate in LAN championships. But training matches are not official games, even at the Tier-2 level, and the intensity in such matches is completely different.
For instance, the Complexity team, which strives to participate in all possible competitions, made 99 flights in just the first 72 days of 2023. These numbers are simply mind-boggling.
However, online teams do not differ significantly in skill level from top-tier teams, as we saw at the BLAST.tv Major Paris 2023. To further confirm this, let's recall the performances of Tier-1 collectives in CCT tournaments.
At some point, the tournament name itself started to carry more prestige than the actual gameplay level of the teams. Of course, hearing the name IEM Katowice is much more pleasing than CCT Central Europe Online Series #10, but it is at this moment that the concepts become distorted. The prestige of a tournament influences the perception of team strength. And this is quite natural, but not at the expense of diminishing the strength of other teams. Here are a few examples:
Astralis, a Danish organization, participated in 3 CCT tournaments and only managed to win one of them - CCT North Europe Series #3. They defeated Aurora 2-1 in the final. However, in CCT Central Europe Series #4, the team also reached the final but lost to Copenhagen Flames. And in CCT North Europe Series #2, the Danes performed poorly and finished 5th-8th.
ENCE, another organization, participated in CCT tournaments only twice. The first time they emerged victorious in CCT North Europe Series #2, defeating Eternal Fire 2-0 in the final. However, in the subsequent tournament, CCT Central Europe Malta Finals, they failed to secure a high placement and finished in third place.
Thus, it may still seem that online CS:GO competitions are simply tournaments for Tier-2 and Tier-3 teams.
Who was so greatly influenced by CCT?
When CCT is mentioned, the first team that comes to mind is Monte, who played a lot of matches in CCT and achieved a considerable number of prize placements:
Impressive number of tournaments, isn't it? And think about the amount of practice they gained in high-pressure situations. In this regard, teams like NAVI simply cannot boast the same level of experience.
It was precisely the practice that became one of the factors why Monte easily outplayed NAVI in the match for a spot in the Major playoffs. They dominated their opponents on one of NAVI's best maps, Nuke, with a score of 16:2!
Let's recall that Monte surprisingly closed out the match against NAVI with a 2-0 victory (Anubis 16:12, Nuke 16:2). Read more about the match here.
By the way, here's what English-speaking analyst Duncan "Thorin" Shields said about Monte's sniper, Volodymyr "Woro2k" Veletnyuk:
Woro2k is one of the weakest trash-talkers I've ever seen. He even said he has no idea when he will beat s1mple and used the excuse that he will lose.

'One day, I will beat you' is the most ambiguous gangsta trash talk you can imagine. 'Lower your ego because the time will come when I will destroy you in tournaments. Maybe not right away, but it will come.'

But then Woro2k easily managed to challenge the legendary Oleksandr "s1mple" Kostyliev: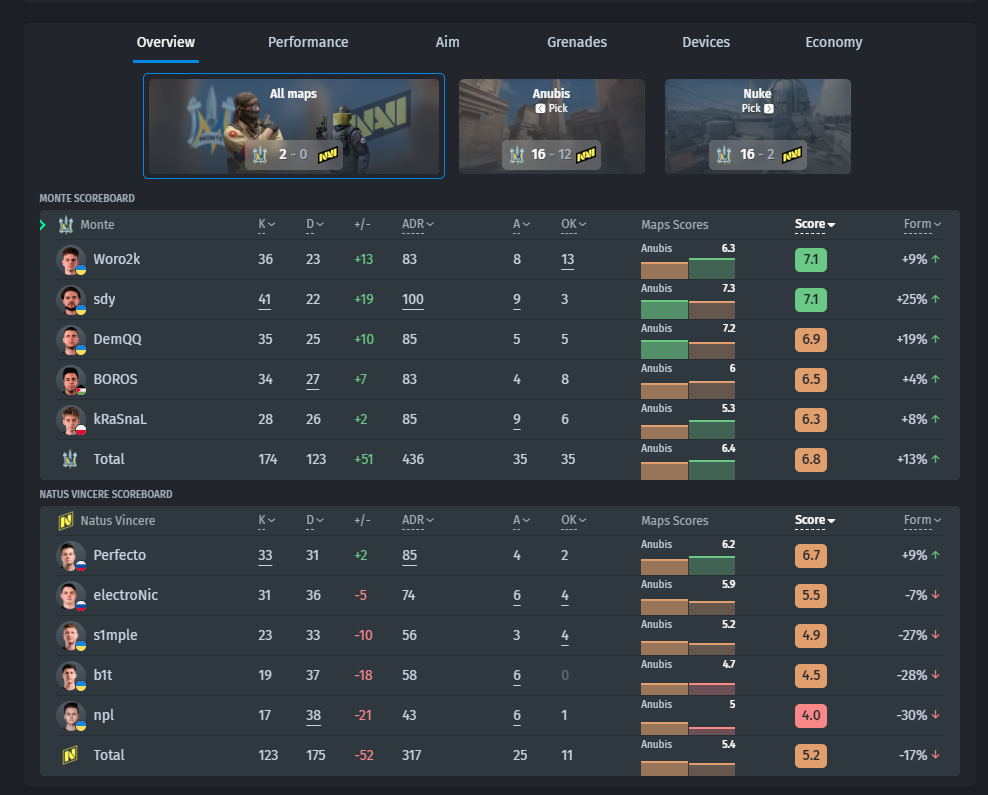 Player Sergiy "DemQQ" Demchenko from the Monte team also expressed his opinion on this matter in an exclusive interview for bo3.gg, which will be released on our website very soon.
Well, let me tell you straight away. That's exactly how it is. Of course, if you put 10 Tier-2 players on a Tier-1 LAN, 6 or 7 of them will play well, but the other 3 or 4 will play poorly. Why? Not because they are bad players, but because they have never played such LANs before. And especially prestigious ones, where many spectators are present in the playoffs. You can easily get lost in such situations.

But these 10 players, in principle, cannot play there because they are Tier-2, and it's very difficult to break into Tier-1. There's so much competition. It's like you want to get on a train, but you're just pushed away because G2 and NAVI are there, and they are doing well. It's very difficult to get into that same train where you would feel good.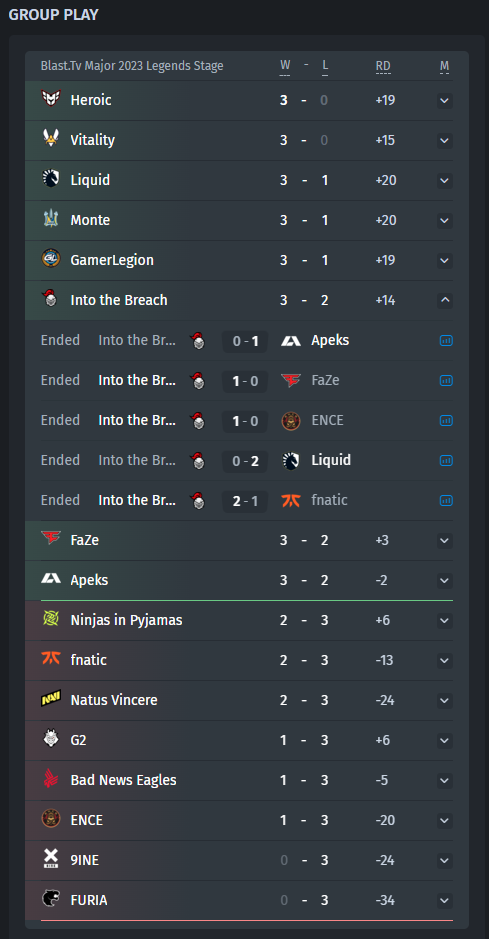 Into the Breach, just like Monte, are regular participants in the online series by CCT. The British organization has attended a whopping 8 online series of the Champions of Champions Tour. Among them, they achieved a 3-4th place finish in CCT Central Europe Series #2!
The team reaches the Major playoffs, yet the community still thinks that only Tier-4 teams play online?
GamerLegion is a team that perfectly demonstrates how the dense tournament schedule from CCT can turn you into champions! Here's a short list of championships the team has attended in a short period:
CCT North Europe Series #2 (3-4th place)
CCT South Europe Series #2 (3-4th place)
CCT West Europe Series #1 (2nd place)
CCT North Europe Series #4 (2nd place)
As we can see, CCT has indeed made a significant contribution to the development of the GamerLegion organization by allowing them to constantly stay in shape and compete from home, rather than spending days on travel.
Right now, CCT is hosting its most significant tournament called CCT Online Finals #1 with a prize pool of $200,000. Esteemed teams such as Ninjas in Pyjamas, Into the Breach, BIG, 9INE, Astralis Talent are participating in the championship.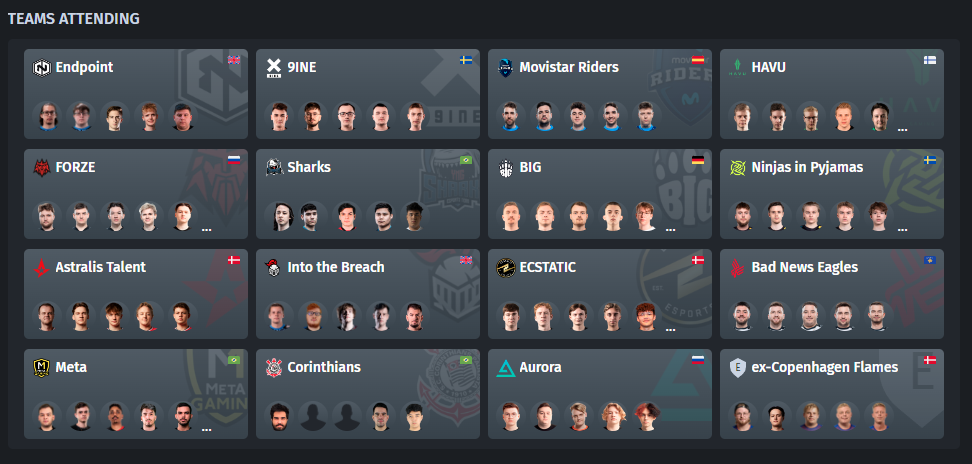 By the way, some of them have already been eliminated from the tournament. In the last stage, teams that didn't even make it to the Major advanced.
For example, the match between BIG and ITB, where the former eliminated Into the Breach with a score of 2:1! Or how 9INE eliminated NIP from the championship.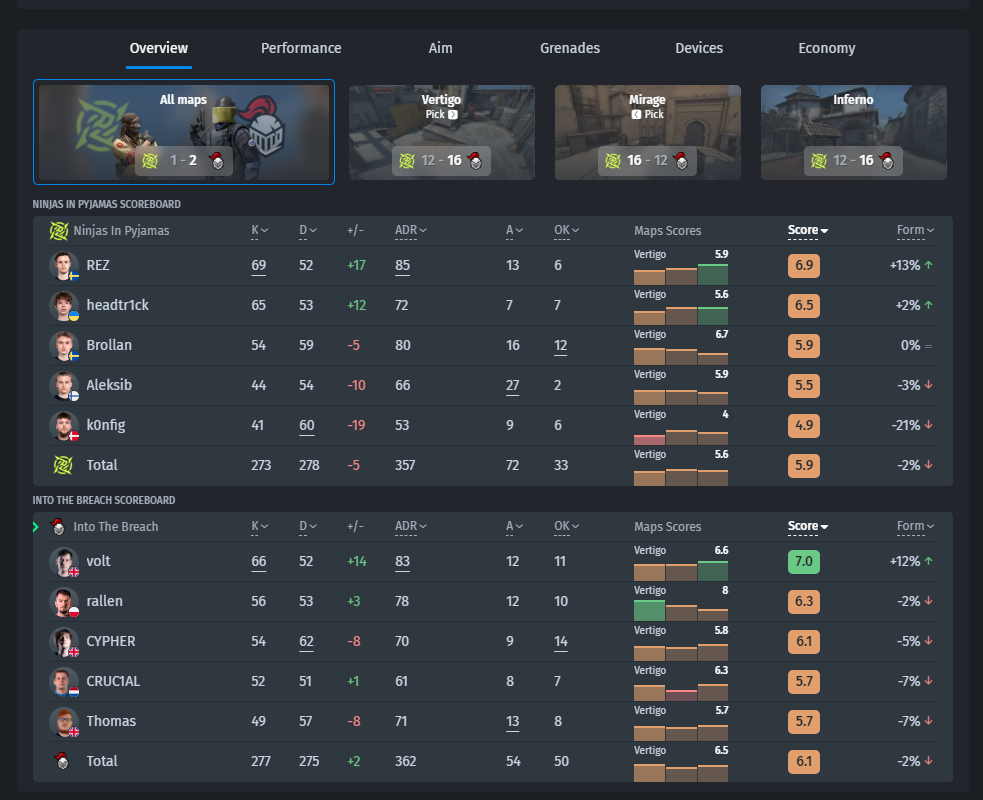 Why can online teams easily defeat teams that exclusively play LAN events?
Well, the reason is quite simple and obvious. Young lineups, when they come to LAN events, experience greater nervousness. As a result of this, along with a lack of experience, they may not execute movements and shots as precisely. But they have something crucial—the feeling of those first LAN events among the players that cannot be conveyed in words.
In addition to that, such teams have the lowest possible ping and are free from issues like packet loss and game delays. Furthermore, the computers at championships are, in most cases, more powerful than players' home PCs. We remember the emotions from the internet when someone switches from a 60Hz monitor to a 240Hz one. The same applies here.
The community should reconsider its attitude towards such tournaments. Sometimes they are much more interesting to watch because the players are more relaxed and less strict, which makes the game more engaging for viewers. After all, isn't it all about the entertainment in the first place?