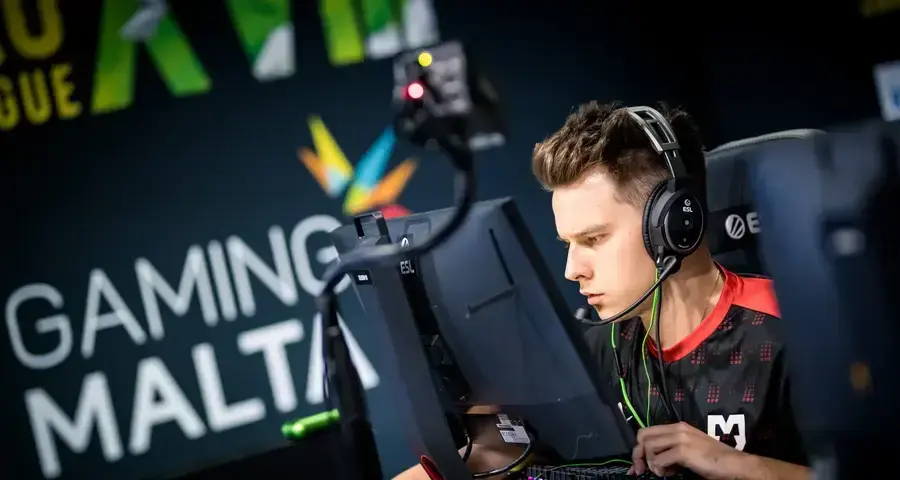 Top 10 Best Players of The Last Month in the history of CS:GO
September 27 saw the long-awaited release of Counter-Strike 2, marking the end of the CS:GO era. Tournament operators have already transitioned all their future competitions to CS2, and the coming months promise to be very interesting. In this article, Bo3.gg reviews the final month of the CS:GO era and identifies the best professional player for that period.
When compiling the top 10 CS:GO players in September 2023, we analyzed the statistics of over 90 esports players who participated in the ESL Pro League Season 18. Calculations included individual player ratings, average values of KDR, DPR, and ADR, as well as individual awards (MVP) and tournament standings. Points were awarded for each metric, the sum of which determined the final ranking position.
Evaluating a player's performance in a CS:GO match is challenging due to the various aspects of each round, such as planting the bomb or getting the first kill. Therefore, the best approach is to calculate a rating for each individual round and then determine an overall score for the entire map.
We believe that Bo3.gg offers the most accurate rating system, allowing for easy and convenient evaluation of every player's performance in every round, on every map, and in every match. This rating system takes into account new factors like side choice, economic status, and many others previously overlooked in rankings. The maximum rating score is 10 points!
Additional details about the rating calculation methodology can be found at this link.
Top 10 CS:GO Players in September 2023
#10. Dorian xertioN Berman
The Israeli esports player kicks off the top 10 best CS:GO players in September 2023. His contribution to MOUZ's success at EPL S18 makes him one of the standout players of the past month. xertioN's average rating in September was 6.4 over 22 maps played, an impressive figure. His ability to timely engage and influence round outcomes makes him a key figure in MOUZ's lineup.
In September, torzsi had the best stretch of his career, ranking ninth in the top 10 best CS:GO players. For him, as for most MOUZ players, the EPL win was their first at a tier-1 level.
#8. İsmailcan "XANTARES" Dörtkardeş
XANTARES ranked eighth in the top 10 players of the month, and his performance seemed to transport us back to the days when all reckoned with the Turkish teams. He literally carried Eternal Fire on his shoulders to the quarterfinals of EPL S18, where his squad showcased a thrilling battle and incredible tenacity.
#7. Álvaro "SunPayus" García
This month, Spinx once again showcased his stellar gaming skills, helping Team Vitality confidently move to the quarterfinals of EPL S18, securing first place in Group A. However, as often happens in the competitive CS world, even the strongest teams can face unexpected challenges. In the EPL playoffs, Vitality clashed with team Monte, and unfortunately, Spinx and the rest of the team faltered in this match. Perhaps it was a result of underestimating the opponent.
#5. Mathieu "ZywOo" Herbaut
Mathieu "ZywOo" Herbaut is undoubtedly one of the most prominent and talented players in the CS:GO world. However, in September 2023, there was a slight decline in his game form. This doesn't mean his skills have become less impressive, or he's lost his place among the top players. In the competitive CS:GO world, maintaining consistently high form is incredibly challenging, and even top players sometimes need a little rest to regain their strength.
#4. Kaike "KSCERATO" Cerato
KSCERATO is one of the most distinguished Brazilian CS:GO players. In September 2023, he secured the fourth spot on the list of the best players of the month, emphasizing his talent and contribution to his team's play. Over the years, he's proven his ability to consistently display a high level of play. His skills and strategic thinking make him a vital part of the team, and his impact on match outcomes is hard to overstate. If he decides to step out of his comfort zone and move to a European club, he might face new challenges and opportunities for career growth.
#2. Benjamin "blameF" Bremer
blameF continues to amaze with his individual performance. In September 2023, he secured the second spot in the monthly best player rankings, underscoring his skill. However, despite his personal achievements, Astralis still faces challenges in tournaments. Maybe he just doesn't have the right teammates alongside him.
#1. David "frozen" Chernyansky
David "frozen" Chernyansky topped the list of the best CS:GO players in September 2023, and it's absolutely well-deserved. His performance in the latest tier-1 championship in CS:GO history was stunning. As a result, he was named MVP at ESL Pro League Season 18.
frozen has been a pivotal figure for his team, helping them clinch the EPL trophy. His ability to make the right decisions during matches, pinpoint shooting, and team collaboration brought stability. Chernyansky's character highlights the importance of individual skill and teamwork in Counter-Strike.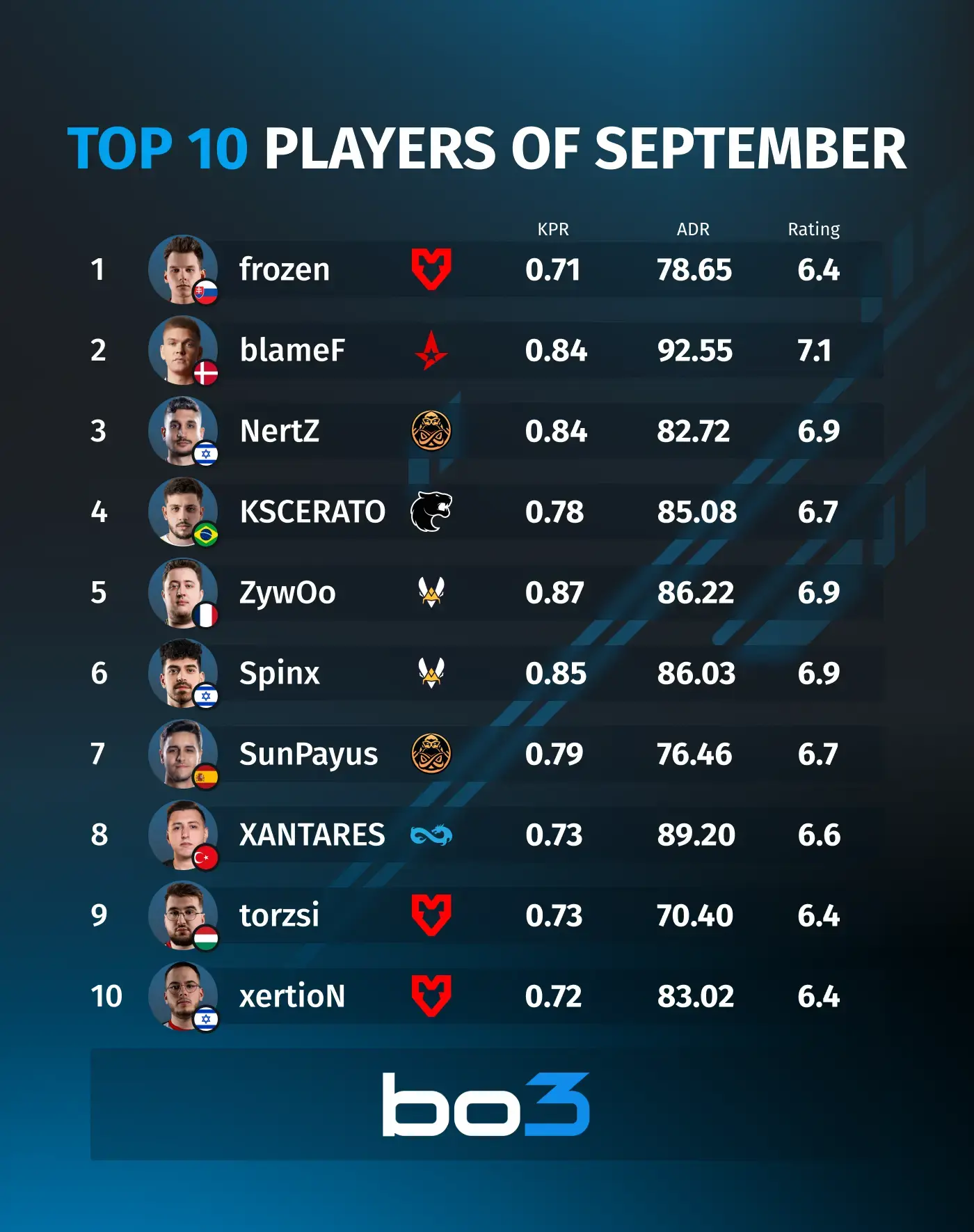 The individual performances of these esports athletes significantly influenced their teams' results in September 2023. They provided unforgettable moments and highlights to the fans. We hope that everyone on this list will continue to display top-tier gameplay on the professional CS2 scene.
Additional content available
Go to Twitter bo3.gg